The Third BGAFD Event - 21st June, 2003
---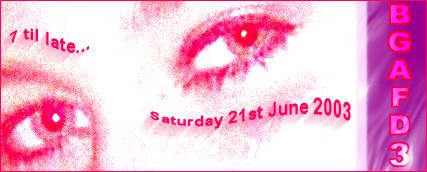 The third BGAFD Event took place on Saturday 21st June 2003 at the same central London venue as the second event.
Once again we are indebted to Wendy Taylor, aided and abetted by Sarah Beattie, for their hard work in setting it up.
The models in attendance included Sandie Caine, Faye Rampton, Sasha, Alicia Rhodes, Autumn, Kat Varga, Jenny Loveitt, Emma Louise, Kinky Kerry, Claire-Louise and Sammi ... not forgetting Wendy and Sarah of course!
Producers included Marcus Allen, Phil McCavity, Terry Stephens (One Eyed Jack), Marino and non other than Mr. Ben Dover himself!
You can see some pictures from the event via the following links:
A charity raffle was held on the night and a dinner date with some of the UKs finest porn stars was the prize up for grabs. Joint winners 'Rock Charone' and 'Matt' duly went for an Italian meal and were accompanied by Wendy, Shaz, Faye and Jenny!!! A fantastic total of around £225 was raised and this has now been donated to Cancer Research UK. A big thank-you and well done to everyone involved.
Many thanks to all those attending - models, producers and fans alike. Roll on event number four ...
---
Back to Miscellany Index
Copyright © 2000 - 2023 The British Girls Adult Film Database. All rights reserved. BGAFD must be consulted about the reproduction of any materials from www.bgafd.co.uk.