The Fourth BGAFD Event - 10th April, 2004
---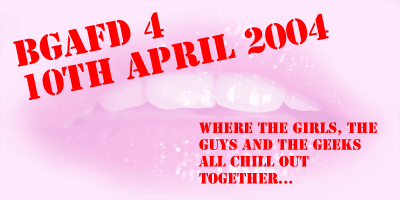 The fourth BGAFD Event took place on Saturday 10th April 2004 at the same central London venue as the second and third events.
As always we are indebted to Wendy Taylor for all her hard work in organising everything.
The models in attendance included Sandie Caine, Faye Rampton, Michelle Barrett, Sasha, Kat Varga, Violet Storm, Beverley Cocks, Kinky Kerry, Rebekah Dee, Kym Morgan, Sahara, Caitlin, Amira Love and Keira ... and not forgetting Wendy of course!
Producers included Marcus Allen, Phil McCavity, Terry Stephens (One Eyed Jack), Mike Newcombe, Joe Black (Sweetmeats Productions), Keith (UKF Productions) and Marino and his Road Trip crew.
You can see some pictures from the event at the following sites:

A charity raffle was held on the night with a fantastic first prize of filming and directing a hardcore porn scene with Marino, Faye and Wendy up for grabs. Faye, Wendy and Marino have all donated their time for free so a huge thank-you to them - you're true stars! A big thank you also goes to Your Choice, Rude Britannia and Mike Newcombe for donating additional raffle prizes. Thanks to their wonderful generosity and to everyone who bought raffle tickets (one person alone ended up buying £200 worth!) a superb sum of £600 was raised for Cancer Research. Well done to everyone involved!
Everyone had a fantastic time and the general consensus seems to be that these events just keep on getting bigger and better. Many thanks to all those attending for making it such a great success - models, producers and fans alike. Thanks too to Simon at Nice'n'Naughty for allowing the use of his address for ticket orders, and a special thank-you to Wendy for making it all happen. Roll on number five!
---
Back to Miscellany Index
Copyright © 2000 - 2023 The British Girls Adult Film Database. All rights reserved. BGAFD must be consulted about the reproduction of any materials from www.bgafd.co.uk.